//php print $user_picture; ?>

By Administration

Wednesday, Nov 30th, 2016
0 comments

Paleo Christmas Pudding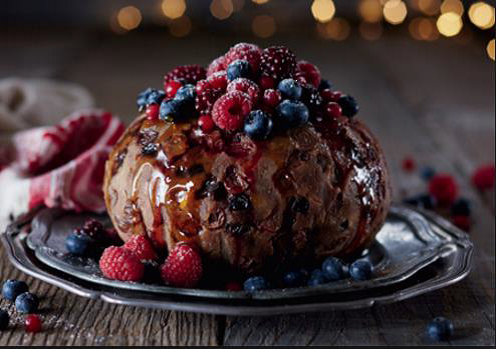 We can't quite believe Christmas is just around the corner! If you are suddenly panicking that you should have made your Christmas puddings months ago or you are looking for a delicious classic with a twist to impress loved ones on Christmas Day why not try our quick and easy Christmas puddings! Best of all these are paleo and can be made a few days before needed, taking the pressure off.
This recipe is for two medium sized puddings. For a Summer infusion we recommend serving with fruit berry compote. They also make wonderful gifts.
Ingredients
1 apple (peeled, cored and diced fine or grated)
150g flaked almonds
150g dates, chopped
150g apricots, chopped
350g sultanas
1 lemon zest
2 teaspoons of vanilla syrup
2 tablespoons of coconut syrup or honey
1 orange, juiced
420g honey
300ml suet or beef tallow or coconut oil
9 eggs (room temperature)
330ml coconut cream
330g almond meal
120g coconut flour
80g tapioca flour
2g sea salt flakes
7g baking soda
4g cinnamon
4g mixed spice
4g ground ginger
Method
1. Pre- heat your oven to 160C.

2. Grease two medium sized pudding bowls.

3. Mix together apple, flaked almonds, sultanas, dates, apricots, lemon zest, lemon oil, coconut syrup, vanilla and orange juice. (Helpful hint – to save time this can be done the day before).

4. In a medium bowl, mix together by hand almond meal, coconut flour, tapioca flour, salt, cinnamon, mixed spice, ground ginger and baking soda.

5. In a mixer or hand mixer (on high speed), whisk suet and honey for around 6 minutes.

6. Add eggs to mixer and whisk on high for a further 4 minutes (don't be concerned if the mixture splits).

7. Add coconut cream and the dry ingredients to the mixer and mix on low until just combined.

8. Now add the dried fruits and mix until evenly distributed. Take off the mixer and scrape down the bowl by hand, making sure the ingredients are all well combined.

9. Place your mixture into the pudding bowls and smooth out. Cover the top of the puddings with baking paper and then foil. (Helpful hint - use tape or twine to keep foil firmly in place).

10. Place puddings in a deep tray filled with water and cover the whole tray with foil.

11. Cook at 160C for approximately 90 minutes or until firm and a skewer comes out clean.

12. Allow to cool and refrigerate overnight.
We hope you enjoy trying these Christmas puddings and you and your loved ones have a wonderful festive period.
Best wishes,
Columbus Coffee
Like? Then by all means share